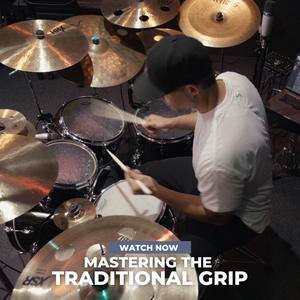 READY TO FINALLY MASTER TRADITIONAL GRIP?
TAKE YOUR TRADITIONAL GRIP PLAYING TO
THE NEXT LEVEL.
Learn the secret your drum instructors never showed you, and finally break through the
traditional grip plateau
.
Through my hands-on, personalized, bespoke approach to 
traditional grip
 and proprietary practice routines, strength exercises, and endurance drills, you'll get the quickest results without wasting time on dozens of lessons.
- Access to the Mastering The Traditional Grip Course by Freddy Charles
- Access to Fast Hands E-book by Freddy Charles
- Access to Better Hands E-book by Freddy Charles
- ​Email Q&A Support With Freddy Charles
- ​2 time video critique and feedback on your technique
- Private 60 minute lesson with Freddy Charles
In our coaching session you'll discover…
- Exactly how to structure your practice to both increase results and structure your time.
- A behind the scenes look at how I manage to obtain this technique.
- What to cover in your practice routine and how to progress if you're not seeing results.